Last week I was lucky enough to travel around Brittany, France visiting the different factories of the Wichard group. This traditional fishing region managed to evolve their economy from fishing to serious recreational and professional sailing. Today over 4000 families make a living from the solid industry which was built around the Offshore Racing.
Lorient is the largest port in the region and where you also find all the Maxi Trimarans, Imoca 60's, Multi 50's, Figaro's and MiniTransats. Most local businesses are built around an old submarine base – including Lorima – so many teams have their actual base over there. It reminded me of an America's Cup port. Designers, riggers, sailmakers, boat builders, shipwrights are found everywhere in the area.
Lorima, who became part of the Wichard Group in May this year, built 90% of the masts in the local marina. I was lucky enough to jump on board Banque Populaire, the 32 meter maxi trimaran that is designed to sail solo around the world. The Lorima team had just fitted a 38 meter carbon mast that was built in a record time of 4 months after the boat capsizes earlier this year.
North of Lorient is Port La Foret, another busy yachting hub and home of very talented sailors like Michel Desjoyeaux. "Pole Finistere", a special club that helps young talented sailors to eventually become successful professional sailors, is also based in Port La Foret. It is pretty much like a University where students learn all the skills required to succeed in their careers as professional sailors. In fact, they learn much more than just sailing and navigation skills, but also marketing skills in order to raise sponsors one day, nutrition or sleep/fatigue management for offshore racing. The project was born in 1993 and is funded by the French Ministry of Sports as well as a few local yachting associations. The success of the school can be measured by the achievement of some of its "students": Franck Cammas, Charles Caudrelier, and Francois Gabart to name just a few…Volvo Ocean Race Winners, Vendee Globe, World records…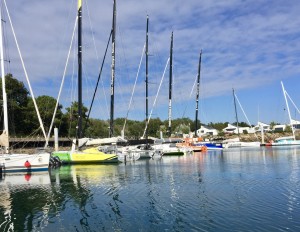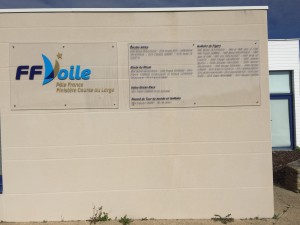 It was extremely interesting to learn how the companies of the Wichard Group – Profurl, Facnor, Sparcraft and now Lorima, take a very active part in this ecosystem, developing new products around the needs and visions of all these passionate offshore sailors.
If you ever travel to Brittany in the near future make sure you let us know in advance as we could help organise great tours for our Australian customers!