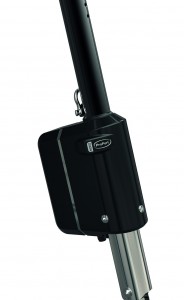 Today, both sailors and the way they sail are changing. With more than 30 years of experience in the field and in order to meet the needs of this new style of sailing, Profurl & Facnor have released a new range of motorized furlers designed to offer economical solutions for small and larger boats. The range covers an extensive variety of boat sizes (9 to + 22 m : 4 models for forestay dia from 8 to 22 mm).
The new range provides maximum comfort, safety and reliability, with a sleek & modern look. For the first time, technology and affordability are brought to medium size boats.
The 2 smaller models are based on a multi-motor power technology. Not only do they provide a very cost effective solution, but comfort and safety (an auto-locking mechanism prevents the sail from unfurling at inopportune times), optimized dimension for a better fit on your deck, and, most importantly, the ability to convert your current manual furler into a motorized version.
Constructed from high quality aluminium & stainless steel, longevity is assured. The larger diameter extrusions will accept the higher torque loads of the new motors. The torque/speed ratio is optimal, allowing you to unfurl and furl in any conditions.
And as with all Profurl & Facnor furlers, the NDE2 is easy to install, and can be adjusted to suit your existing forestay – no need to replace it. All you need is your trusted rigger, a good electrician and half a day to do the conversion!
Contact your nearest rigger or sailmaker or contact us on [email protected]
BOAT LENGTH
FORESTAY DIAMETER
FORESTAY LENGTH
POWER
CIRCUIT BREAKER/
POWER SUPPLY
MAX TORQUE
MAX ROTATION
SPEED
From 9 to
12 m
8mm / 10mm
14,50 m / 16,50 m
400 W
40A/ 12V
60nm
40rpm
From 12 to
18 m
12mm / 12.7mm
18,50 m / 20.50 m
800 W
80A / 12V
40A / 24V
80nm
55rpm
From 14 to 18m
12mm / 14mm
18,50 m / 20.50 m
800 W
60A / 12V
30A / 24V
130nm
40rpm
From 15m to 22m
14mm / 16mm
19mm / 22mm
20,50 m / 24,50m
800 W
60A / 12V
30A / 24V
130nm
40rpm