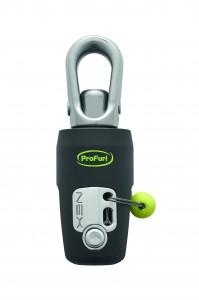 The new version of the Nex furler is now available with many innovations and technological improvements. These innovations, resulting from the Profurl expertise gained since the launch of the first version of the NEX in 2010 will bring you even more performance, safety and comfort when sailing.
The new range currently has 7 models covering all sizes of sails (up to 350m²) which will allow to equip boats over 80′.
Interestingly the previous 5.0 model has been replaced by a 4.0 unit with an increased spool diameter. This makes it a perfect contender for boats between 45 and 55′ for which we often find ourselves borderline.
The new range offers several new terminal options both lower spool and top swivel, including a very smart light and cost effective 3:1 hard sheave and a new sleek halyard block. Top swivel can also come with lashing eyes, which is a great lightweight and versatile option to add on certain boats.
The new NEX drums are now the widest on the market, which will be welcomed by users for faster and more comfortable furling.
The furlassist double direction ratchet is the major innovation of the new range – the most simple pawl system which provides intuitive and safe assistance for furling. The pawl is permanently engaged so very reliable, and only unlocks when hauling in the line or the sheet fast. It operates in both directions and without additional line. It is also as easy to install than remove, relying on 2 screws.
| | nex 0.9 | nex 1.5 | nex 2.5 | nex 4.0 | nex 6.5 | nex 8 | nex 12 |
| --- | --- | --- | --- | --- | --- | --- | --- |
| Max light sail area (i.e gennaker) | 35 Sqm | 60 Sqm | 80 Sqm | 120 Sqm | 220 Sqm | 250 Sqm | 350 Sqm |
| Max stormsail area | - | 20 Sqm | 30 Sqm | 45 Sqm | 65 Sqm | - | - |
| Ratchet feature FurlAssist | - | Yes | Yes | Yes | Yes | Yes | Yes |
| Working Load | 900 Kg | 1500 Kg | 2500 Kg | 4000 Kg | 6500 Kg | 8000 Kg | 12.000 Kg |
| Spool diameter | 120 mm | 150 mm | 180 mm | 220 mm | 220 mm | 250 mm | 250 mm |
| Standard lower terminal | Clevis pin snap shackle | Clevis pin snap shackle | Clevis pin snap shackle | Clevis pin snap shackle | Trigger snap shackle | Trigger snap shackle | |
| Standard upper terminal | Swivel eye | D shackle | D shackle | D shackle | D shackle | D shackle | D shackle |
| Examples for a monohull | Mini 6.50 - Cruising boat 27' | Cruising boat 32 ' | Cruising boat 42 ' | Cruising boat 50 ' | Cruising boat 55 ' | Cruising boat 60 ' | Cruising boat |
| | | | | | | | +65 ' |
Description
D shackle
Swivel eye
Halyard block
MXEvo: halyard shackle
Clevis pin snap shackle
Speedlink: trigger snap shackle
Solid sheave
Swivel hook
For models
As standard on all models but NEX 0.9
> NEX 0.9: as standard
> Option: from NEX
1.5 to NEX 6.5

>Option for all models (not available for NEX 0.9 & NEX1.5)
> Option for all models
> As standard on all models from NEX 0.9 to NEX4.0
> Wichard forged snap shackle.
> Ergnomic ball for quick opening
> As standard from NEX 6.5 to 8.0
>Option: from NEX1.5 to NEX12.0
NEX4.0, NEX 6.5 and NEX8.0
Benefits
>Wichard forged shackle in High
resistance stainless steel
> Compact
>Prevents the rope wear
> Perfect for lashings
> 2/1 halyard
> No loop - no twist
> Dismantable
> With balls + bearing
> 2/1 halyard
> Becket for 3/1 purchase
> Heavy load
> Compact
> Stainless steel
> Rope dia: 8 to 14 mm
> Working loads adapted to models
> Wichard forged snap shackle
> Quick opening
> Compact
> Working loads adapted to models
> With becket
> Quick opening
> 3/1 purchase
> Stainless steel
> Weight savings
> Compact
> Ease of installation (no drilling)
> Reduce mast compression
Upper terminals
Y
Y
Y
Y
-
-
-
Y
Lower terminals
-
-
-
Y
Y
Y
Y
-